Like any kid growing up, I hated seeing my birthday go. But one of the best things about my birthday is that it was just a week after Halloween and just a few weeks before Thanksgiving and the holiday season! Hooray!
Secret: I went to Barnes and Noble and Walmart last weekend and even though I agreed with my friends that I just couldn't
believe
that they were playing Christmas music already, I was really thinking,
"YAY! CHRISTMAS MUSIC!"
I like having plenty of time to enjoy the lead up to Thanksgiving and Christmas because once they are gone, the winter season is really pretty depressing. It's just cold and wet and icy... yuck. I hate being cold more than almost anything else, and the only thing that makes it kind of acceptable is the fact that the holidays are nestled within the season.
My current obsession is my hot apple-berry cider, which I kind of made up based on a couple of other recipes. It's soooo good! Here's what you do...
Jenna's Hot Apple-Berry Cider (for Adults)
Ingredients:
Jug apple cider
Cranberry cocktail
Tequila
Cinnamon sticks/powder
Orange
I made mine in the crockpot, but it's easy to simmer all of the ingredients on the stove, in the same order as listed below.
Directions:
Pour four cupps of apple cider into the crock pot
Add 1.5 cups of cranberry cocktail
Pour in 1 cup of tequila
Mix together before squeezing the juice of one orange into the mixture. I also cut up the orange peels and let them sit in pot to keep adding flavor.
Add cinnamon and mix together.
Ta-da! Done! And it's amazing. I made it last weekend for my little get-together (I'll update soon!) and it was a hit.
I'm also excited for my favorite Christmas songs:
And my favorite Christmas memories:
My first Christmas present from Boyfriend... this photo is from Gordon's but I couldn't find my exact ring. I looks just like this, but just with regular diamonds and no black diamonds.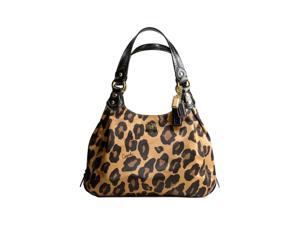 And my beautiful leopard print Coach bag, my present from Boyfriend last year. I'm carrying it now and I love it... it goes with everything and I love the leopard print. I actually don't like Coach bags usually because they are covered totally in the Coach Cs... which reminds me of girls wearing Hollister shirts that just say "Hollister" across the front... sometimes it feels like advertising just for the sake of advertising instead of just for the beauty of the bag.
Which is why I love my Coach. It's well made and beautiful and classy... but unless you're looking at the tiny front label or the small inside label, it's not broadcasting COACH.
I can't wait to put up our tree... Boyfriend and I bought it last year, and I'm excited to decorate it with all of the sale ornaments I got last year in January for practically nothing!
I wish I could put up new, better photos of Shadow in antlers but alas... he chewed these pretty soon after I took them off him last year. I was so sad... Boyfriend thinks this is no accident and that our dog is a genius.
Which he is :o)